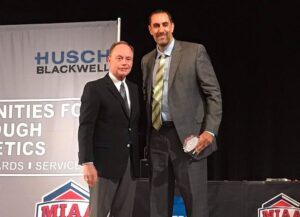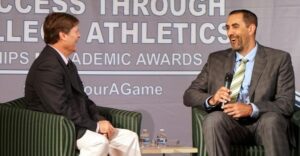 KANSAS CITY, Mo. — Bob Sundell enjoys his current spot on game day. He usually resides in the stands with his wife Korena supporting their children, Jalen and Serena, but on Monday, his children got a reminder of where some of their athletic gifts came from.
As a part of an 11-member 2019 class, the former Northwest Missouri State standout was inducted into the MIAA Hall of Fame at the Truman Forum Auditorium in the Kansas City Public Library.
"This is some validation for my kids that Dad knows a little bit," Sundell said. "All they see now is the short shorts and cheeky mustache. I try to show them tapes, but they don't make VHS players anymore. They just had to take my word for it, now they can see this (referencing his Hall of Fame plaque)."
While Sundell's joke got plenty of laughs from those in attendance including the event's emcee Blair Kerkhoff of the Kansas City Star. However, Bob's daughter Serena, who is currently being recruited as a basketball player herself, said it was nice to see her father receive that recognition for his own athletic career.
"I knew he was a great athlete, but this really just brought it to real life," Serena said. "Just to see him up there with so many other great athletes, it is incredible and I am really proud of him."
Bob says being recognized for a college career that ended in 1989 makes his induction even more special.
"It is very humbling and it is actually pretty cool since it has been 30 years since I actually competed — to be remembered at this point in time is quite an honor," Sundell said.
Like his daughter and his son (Jalen is currently playing football at North Dakota State), Bob was recruited as a Division-I athlete out of high school and chose to go to Drake University to play basketball. But after a season with the Bulldogs, he decided to transfer to Northwest Missouri State.
Becoming a Bearcat allowed Sundell to become a two-sport athlete in college as he added track and field to basketball. That two-sport ability is what made Sundell an MIAA Hall of Famer.
On the track, Sundell also left his mark and still holds the school outdoor high-jump record. He cleared 7 feet, 5.25 inches in the 1988 MIAA Championships.
Sundell finished his three seasons on the Bearcat track and field team as a three-time outdoor All-American and 1987 indoor All-American. He was also a First Team Academic All-American in 1989.
Sundell's success at Northwest allowed him to earn a spot in the 1988 U.S. Track and Field Olympic Trials.
"That was really cool to be in a dining hall where you are at a table with Florence Griffith Joyner, Dwight Stones and people like that, people you had grown up watching," Sundell said.
After graduating from Northwest and then law school at the University of Missouri-Kansas City, Sundell returned to Maryville and has enjoyed being able to get a first-hand look the growth of Bearcat athletics.
"Obviously, I bleed green," Sundell said. "What has been really neat is that I've been able to be in Maryville for my entire career for the most part so I've seen the university change, I've seen the town change, I've seen the rise of the football program, I've seen the rise of the basketball program with two national championships, and those are things that I take a lot of pride in."
Monday's Hall of Fame induction certainly shows that Northwest and the MIAA take a lot of pride in Bob Sundell as well.